Mattress removal and disposal Eugene, Oregon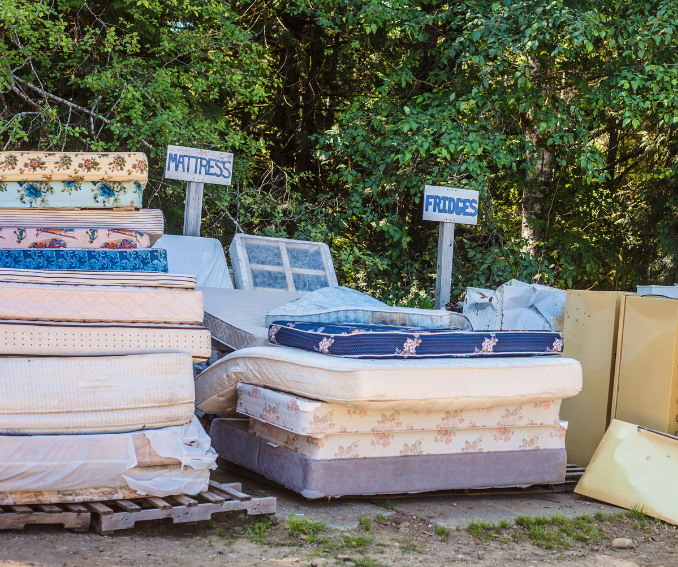 Getting rid of a dingy old mattress can be a tough job. Think about it: mattresses are large, bulky, and awkward to maneuver. It takes two people to move one effectively and they can't be thrown out in the regular garbage. If you want to try to dispose of a mattress on your own, it will likely take a lot of effort and time.
You can do that or you can leave the heavy lifting to our Eugene, Oregon junk removal company. Our crew will help you banish that old mattress in a matter of minutes. Best of all, you won't have to lift a finger other than to point us to where the mattress is located.
We are fully licensed, insured, skilled and experienced. With more than two decades experience here locally in the Eugene and Springfield areas, we are a local company you can trust with all your trash hauling and removal needs.
Contact us today for a free estimate or to schedule fast and efficient service that is also affordable.
Dependable mattress recycling and donating
The great thing about disposing of old mattresses is that most can be recycled, which eases the burden of local landfills. In most cases, 80 to 90 percent of the mattress can be reused and transformed into new products.
What mattress parts can be repurposed? Stuffing, fabric, steel springs and wood frames can all be recycled. That's great, but mattresses cannot be left on the curb for regularly recyclable pickup. It will be on you to find a facility that recycles mattresses, plus you will need to find a good way to transport it there.
Recycling mattress parts is great for the environment. Doing so will reduce landfill waste as mattress parts can take decades to decompose.
If your mattress is still in good shape it can be donated. As long as it isn't soil and doesn't have rips, tears, or stains, it can be given to local charity or non-profit organization in the Eugene region that accepts mattress donations.
If you want your mattress recycled or donated, our team can make it happen with our reliable removal service.
Signs it's time to get rid of your old mattress
In a lot of instances it will be obvious that you need a new mattress. There are many signs that it's time to do so. They include:
Age of the mattress. Is it more than eight years old?

It is uneven and rolls to the center when you lay down.

It creaks and makes other noises.

It sags in the middle

Your back or other body parts are in pain when you wake up

You are not getting a good night's sleep.

You wake up throughout the night feeling congested because of dust allergies.
If you are having problems with allergies while sleeping, there's a chance your mattress is infested with dust mites. They are a common allergen that tends to hide in mattress cotton folds. If you believe that this is the case, it is smart to throw away the mattress and buy a new one.
If it isn't obvious by now, sleeping on an old mattress can have many negative effects on your health. We can help you dispose of yours to make way for a new one.
Our bed and mattress junk hauling services
When it comes to junk removal, our crew pretty much does it all. We can help you with full house cleanouts, appliance recycling, and a lot more. In terms of mattresses and bed, we remove and haul away the following:
Bed frames

Box springs

Futons

Air mattresses

Bunk beds

Platform beds

Water beds

Foam mattresses

Inner-Spring Mattresses

Adjustable Base Mattresses

Latex Mattresses

Gel & Pillow Top Mattresses

Memory Foam Mattresses
Still have questions? Give our friendly team a call today to learn more about our low-cost rates and quality trash and garbage hauling services in Oregon.